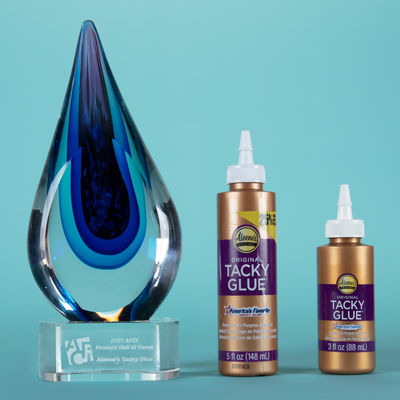 To be inducted into the AFCI Product Hall of Fame, creative industry products must have inspired creative expression and maintained popularity over a sustained period of time. The 2021 Product Hall of Fame inductees showcase both historic and new versions of classic products that have been – and are still – loved and used by generations of creators.
"AFCI looks forward to recognizing these influential products as our inaugural Product Hall of Fame inductees," stated AFCI Chair, Jim Scatena. "Each with their own rich histories within the creative industries, Aleene's Original Tacky Glue, Crayola Crayons, and Mod Podge have had significant impacts on how creators approach different projects, and have opened the world of crafting to generations of consumers."
Aleene's Original Tacky Glue was created by craft-industry trailblazer Aleene Jackson, the owner of a floral supply store, who also taught classes on floral arrangements. "Glue d'Aleene" became so popular in Aleene's classes, she started bottling and selling the tacky white glue and modified the name to "Aleene's Original Tacky Glue," the premium-quality glue crafters, households and hobbyists have used and trusted since the 1950s. To read more about Original Tacky Glue and Aleene Jackson's story, click here.
The Association for Creative Industries (AFCI) is the premier trade association for the global creative arts products industries, and is committed to its vision of a healthy, vibrant and innovative community that enriches peoples' lives through crafting and other creative activities. For more information on AFCI, please visit creativeindustries.org.